Moses Taiwa Molelekwa
The Afro-Jazz renaissance movement was led by the late composer and piano genius- Moses Taiwa Molelekwa.
Before his tragic untimely death he raised the bar and took the South African Jazz music to another level, leaving his peers to continue with the race at a pace never dreamt of before. Moses Taiwa Molelekwa was born in 1973 into a musical family in Tembisa, near Johannesburg.
His grandfather was a pianist and his father, Jerry, is a jazz enthusiast whose love for the music of Thelonius Monk earned him the nickname "Monk" among his peers, most of whom were collectors of Jazz music. Moses did his piano studies at FUBA where he was the first to receive the institution's Best Student award in 1987. Before long he was performing in Johannesburg's respected clubs with established musicians. He was a founding member of the award-winning bands Brotherhood and Umbongo. They showed their true colors in the Gilbey's Music of Africa competition held in 1991 and 1992. At an early age Taiwa already toured the USA with Hugh Masekela, Dorothy Masuka and Julian Bahula and back home he played alongside Miriam Makeba, Jonas Gwangwa.
Molelekwa's debut album Finding One's Self with MELT 2000 in1995 won him FNB SAMA2's Best Traditional Jazz as well as Best Contemporary categories. For a debut album to win both the old and the new can only reveal the master blender behind it, a genius who can fuse the sounds of two worlds and times to set a new standard for future musicians of the genre. Moss was a world-class pianist who could play anywhere, anytime with the world's best. the line-up of musicians on his album Genes And Spirits is not only a clear testimony of the respect he had for his profession of choice, but also the high esteem with which his peers world-wide regarded him.
On the album he dedicated one track Spirit Of Tembisa to his home town and one of the fastest growing townships in Gauteng. The album was nominated in FNB SAMA5's Best Producer and Best Male Artist categories, and won the Best Contemporary Jazz Performance section.
At that gala event he set the stage ablaze with TKZee and Loyiso Bala. Taiwa's improvising skills made him so versatile. As much as he could journey between the traditional and the modern, he could also cruise smoothly between jazz and kwaito. When respected former head of FUBA School of Music Geoff Mapaya recorded his Afro-Fusion album, Thobela Mmirwa (2001), he invited one bright former student of the institution to sit behind the keyboards on two tracks, No Idea and Ya Warang - Moss excelled! Moses also made a valuable contribution to Sibongile Khumalo's album in the form of his composition titled Free Spirit.
As a musical mercenary his assignments included Stimela's regrouping album Don't Ask Why, Jimmy Dludlu's Echoes From The Past and Kabelo Mabalane's Everybody's Watching. Like that US jazz pianist and composer, Thelonius Monk who influenced the development of Bebop, Taiwa was already developing a characteristic pianistic style of his own that was destined to change Afro-Jazz as we know it. On 13 February 2001 the nation learned with shock that the bodies of both Moses and his wife/manager, Florence "Flo" Molelekwa (née Mthobo) were discovered in their Johannesburg offices. They are survived by their son Zoe who also took up piano and keyboard studies at the UKZN in Durban. Moses Taiwa Molelekwa lived his brief stay with us so fast and vast, so fruitful and fertile that his musical globe trotting will take a privileged few among us a life-time to match. After his departure his other works were released on two albums, Darkness Pass & Wa Mpona - we'll always see you !
We gratefully acknowledge that some of the above text was taken from the diary of Max Mojapelo (edited by Sello Galane) BEYOND MEMORY - Recording the History, Moments and Memories of South African Music.
FOR MORE DETAILED INFO AND DISCOGRAPHY & THE ARTIST'S WORK PLEASE CLICK HERE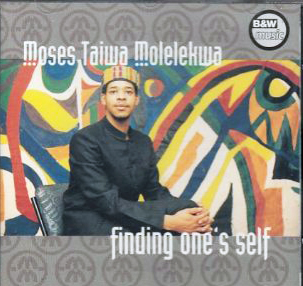 Original cover of Fining One's Self - the debut album of the young genius Moses Taiwa Molelekwa.
MOSES TAIWA MOLELEKWA - FINDING ONE'S SELF (BW053)
Released in 1994, "Finding One's Self" garnered much praise from all quarters. Moses won the SAMA Best Jazz award in 1995 aged 24. Accolades for this first, yet surprisingly mature collection: " Molelekwa is widely hailed as the inheritor of Abdullah Ibrahim's mantle, a creator of hymn-like harmonies rolling under jubilantly jazzy melody lines, propelled by the leaping vitality of South Africa township music" John Fordhaham, The Guardian.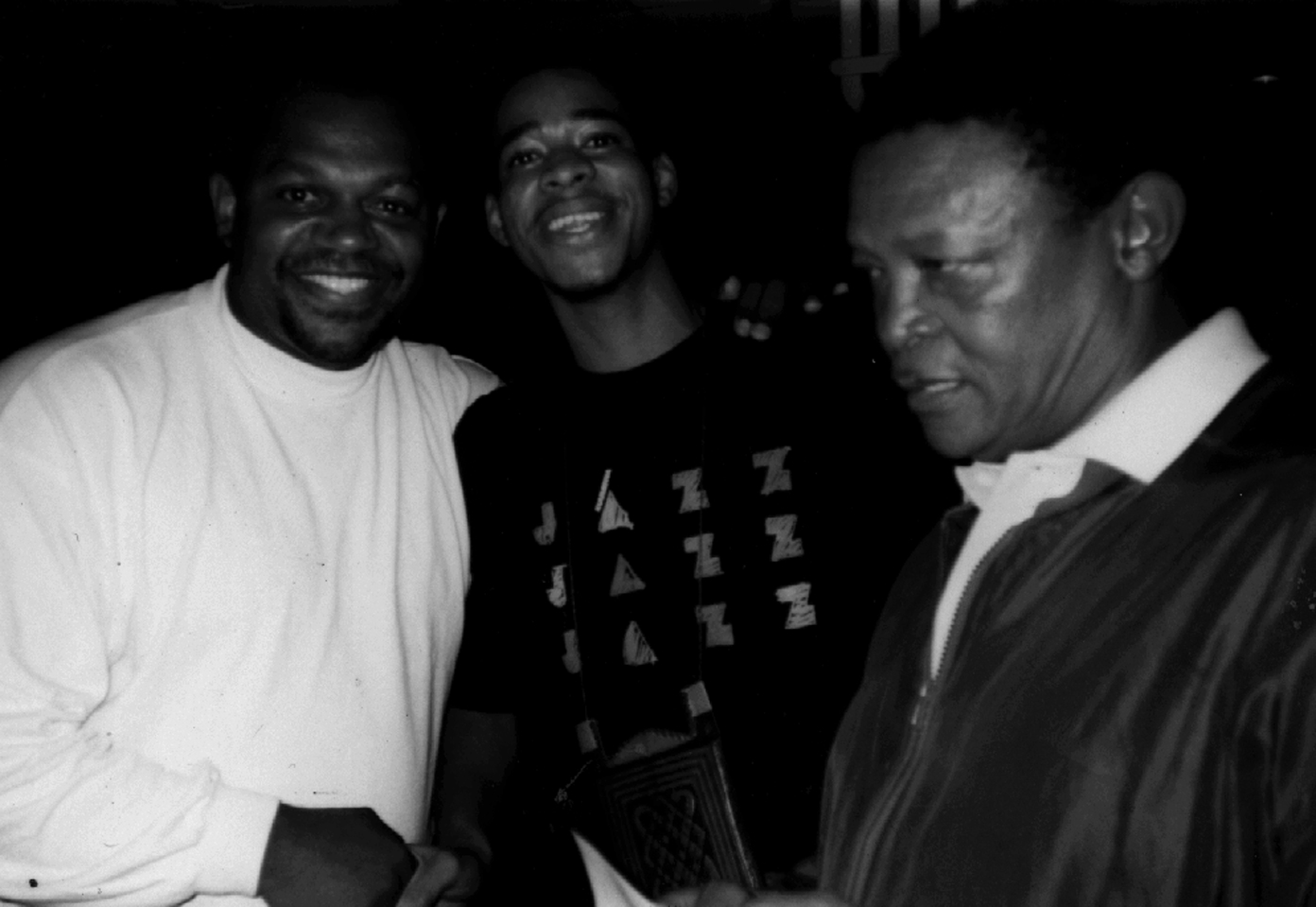 Moses with Hugh Masekela on tour.
1994 - the same year as Taiwa's debut album was released the already busy artist attended a few studio sessions at Downtown in Joburg and Milestone Studios in Cape Town. Here the OUTERNATIONAL MELTDOWN posse from South Africa, the UK, Madagascar and Brazil had gathered for two weeks of recordings and live concerts. Together with Airto Moreira, Fana Zulu, Byron Wallen, Shaluza Max Mntambo, Sipho Gumede, Jose Neto and Mfa Kera they put down 4 songs to be found on the Outernational Meltdown series of releases.
Bo Molelekwa - after hearing of the birth of his son Zoe, Moses sat down at the piano in the empty Milestone Studio to play his WELCOME for the first born. Back in the control room I saw him sitting down In the corner of my eyes and quickly hit the recording button of my stereo DAT machine which was permanently hooked up to the desk. The live version, Taiwa performed two nights later at the Baxter Theater in Cape Town.
Dance to Africa (extract from a rare later performance "Best of South Africa's Live Jazz" Moses Taiwa Molelekwa Live in Moretela Park)
Nobohle - live at The Baxter Theater 1994 and also the Downtown Studio Making Of... Part 1 and Part 2
Barungwa - Messenger BW 070
BARUNGWA
Andrew Missinham - drums Moses Taiwa Molelekwa - piano
Shaluza Max - vocal Dave Mayekana - guitar & vocals
Ike Leo - Bass Chris Bowden - sax, flute
Founded in 1995 after the first Outernational Meltdown '94 gathering of local and international musicians @ Downtown Studios in Joburg. Barungwa became the first Anglo/South African Acid Jazz group and toured both SA and Europe ( but mainly the vibrant Acid jazz scene in the UK).
MOSES TAIWA MOLELEKWA - GENES AND SPIRITS (BWSA079)
FIRST VINYL RELEASE 20 YEARS AFTER THE INITIAL CD LAUNCH NOW AVAILABLE FROM MATSULI MUSIC
Genre-busting South African jazz and kwaito meets Cuba (Chucho Valdez), Brazil (Flora Purim), Cameroon (Brice Wassy) and Bristol (drum 'n' bass). First time on vinyl (gatefold double 180g) with new liner notes, unseen photographs and an exclusive track. Available exclusively from MATSULI MUSIC
Stream tracks from Amazon, iTunes or Spotify
CD TRACK LISTING
1. Tsala with Faith Kekana, John Hassan, Frances Reardon, Geoff Gasgoyne and Andrew Missingham.
2. Spirits of Tembisa with John Hassan, & Andrew Missingham
3. Down Rockey Street with Fana Zulu, Vusi Khumalo, Jose Miguel Melendez, Khaya Mahlangu, Lawrence Matshiza, Denis Rollins and Rowland Sutherland
4. Itumeleng with Bassie Mahlasela, Frances Reardon, Geoff Gasgoyne
5. Sogra with Flora Purim, Fana Zulu, Vusi Khumalo, Jose Miguel Mendez, Khaya Mahlangu & Lawrence Matshiza
6. Genes & Spirits with Jantshi Mayo, Kwazi Shange & Tlale Makhene.
7. Kwaze Kwangcono with Marc Anthoni, Lungiswa Plaatjies, Faith Kekana, Julie, Kwazi Shange, Jantshi Mayo, John Hassan & Lawrence Matshiza
8. Rapela with Brice Wassy & Hilaire Penda
9. Dance to Africa with Brice Wassy, Byron Wallen, Jose Neto, Zim Ngqawana, Airto Moreira, Valerie Naranjo
10. Ntatemoholo with Chucho Valdes and Taiwa
Recorded at Rhino Studios, Downtown Studios, The Garden in London, Real World in Bath, Brownhill farm Studios in West Sussex and Livingstone Studios London
Engineerd by Richard Edwards, Richard Mitchell, Jasper, Pete Hoffmann, Mark Braithwaite, Russell Kearney, Chris Lewis and Peter Thwaites (Dance to Africa)
Quotes from Ian Nicolson: " His second allbum for the "no boundaries" M.E.L.T. 2000 label is a delightful dip into a barrel filled with seductive influences. Moses has layered Cuba (with celebrated Cuban pianist Chucho Valdes as mentor), Brazil (Flora Plurim's unmistakeable vocalisations), the Cameroon (funked up by Brice Wassy's infectious time-keeping), and even Bristol (just a lickle drum'n'bass from somewhere...) over his own instinctive township feels. The resultant blends are so cheering I think Taiwa's left hand could probably heal the sick - or at least make them feel a sight more chirpy. Heartily recommended."
Johannesburg Mail & Guardian January 1997
Gwen Ansell
A child plays in the dusty streets of Tembisa township on Johannesburg's East Rand. It is 1978. From one doorway floats the scratchy sound of a Charlie Parker album. From another, an equally scratchy recording by alto saxophonist Kippie Moeketsi. And down the street, live, on a bare piece of open ground, the complex, multilayered polyrhythmic drumming of a troupe of traditional Pedi musicians...
It's from these three roots that Moses Taiwa Molelekwa's unique jazz piano has grown.
South Africa is one of the few countries outside the USA where jazz has been a genuinely popular music, and not the preserve of an elite. In the townships, American jazz was (and is) purchased at great expense; heard avidly; the solos dissected with skill. But there's also a unique South African jazz heritage, blending folk styles, modern instrumentation and big-band swing. In the marabi music of the 1940s and 1950s, three chords and a two or four-bar sequence carried a hypnotic, constantly changing melodic ribbon. The music grew, enfolding and adapting influences from bebop, free jazz and rock, and - in a society of enforced migrancy between city and countryside - constantly receiving fresh transfusions from a score of distinctive folk traditions. And it was dangerous music: challenging the cultural categories and divisions of apartheid and the rules which tried to legislate settled black citizens out of existence. It has its heroes (like the legendary Moeketsi), its exiles (Masekela, Makeba, Dollar Brand, Dudu Pukwana, Chris McGregor and more) and its own canon of standards -including many defiantly joyful titles which threw apartheid's laws back in its own face.
That musical heritage can be heard in Molelekwa's complex, percussive left hand, (Ntate Mohalo) in fractured, staccato phrasing (Down Rockey Street) and in the close-to-marabi structure of Itumeleng. It's also there in the stark lyricism of Sogra/Mmatswale, with its folk-like simplicity of melodic line. South Africa sings in Molelekwa's almost choral approach to instrumental arrangements, and in his densely-textured use of percussion.
But there's more to South Africa than rhythms and harmonies, and more to this album than South Africa. The intensely spiritual quality of black community life (botho/ubuntu - respect for the humanity of others) is sewn with unbreakable thread to its music. Apartheid's project of de-humanisation created spiritual tragedy and crisis in the townships. And Molelekwa, growing up in the 1970s and 1980s, was also marked by that crisis. He told a film-maker: "There was so much pressure, everyone had to find a way to let it out. The pressure drove my best friend into crime; I'm lucky, I can deal with it through my music." Those emotions, too, are here: the warmth of friendship, the joy of celebration and the regret for what has been lost.
The 1 990s are a time of movement and hope for South African jazz. There's a rediscovery of musics which were pushed underground or into exile, like the free jazzing of Brotherhood of Breath. And there's a new process of musical bridge-building to the sounds 9f the rest of Africa, to Asia and Latin America and to the clubs of Europe and America. That process resonateson this album in the collaborations with Chucho Valdez, (Ntate Moholo) and singer Flora Purim (Sogra/Mmatswale). It dances through the ragga flavours and programmed drums of Spirits of Tembisa.
What makes this work unique - and much more than the sum of its influences - is Molelekwa's own voice as a musician, his vision and his technique. Equally fresh are the approaches of his South African collaborators, in the main young players from his own generation. This album pays its respects to South Africa's jazz past - but it has its feet on the road to the future.
Mural at the entrance to Moses township Tembisa in honor of his SAMA award winning albums. Thanks Colin !
MOSES TAIWA MOLELEKWA - DARKNESS PASS DOUBLE CD (MZA009-2)
Darkness Pass - Solo Piano
A double CD of the secret Solo Piano works titled DARKNESS PASS, recorded 1996 in Johannesburg by the late genius Moses Taiwa Molelekwa has been released on April 17th 2004 to coincide with his birthday.

NOTES BY ROBERT TRUNZ
Back in 1994 during the Outernational Meltdown recordings, in the early hours of the morningMoses and I were the only ones left in Downtown Studios in Joburg. Moses settled down at one of the pianos whilst I found a comfortable spot on the floor next to the piano. It was there that I first heard him playing solo piano.
Moses took me on a journey that lasted almost 3 hours, a journey that expanded my horizon and revealed a depth of Moses that few people have ever had the privilege to encounter. It is the soundscapes this young artist drew every time he sat in front of a piano or keyboard that fascinated me from the onset when I first heard him play live in 1993 at The Market Theater in Johannesburg.
That night @ Downtown Studios Taiwa played non stop until the sun came up and it was then that I knew that we had to record a solo album. Believe me it took some convincing as Moses himself was not into the idea initially as he just formed a band with superb young talents. In 1996 I finally persuaded him to secretly go into a locked upSABC Studios to produce a solo project on the grand piano recorded by Peter Thwaites.
That was the first step but he was still reluctant to release it until the end of the year 2000 when he finally changed his mind after having worked with British pianist Joanna McGregor on a duo project in the UK and South Africa. I finally convinced Moses to tour this solo album, to go out and share with the world his remarkable gift but his tragic death in February 2001 put en end to all our plans.
Moses Taiwa Molelekwa had the ability to paint the most beautiful or deeply disturbing world with the piano, so deep and full of expression reflecting his character, his depth and his roots that were firmly planted in African soil. He was a true African piano player and to me will remain my all time favorite. Although the tour never happened Moses began to reveal a glimpse of his immense depth and love of the acoustic piano through his work with Joanna MacGregor. However, nothing will ever come near to what I experienced that night in Down Town Studios in 1994. For that I am eternally grateful, and thank Mosi for an experience that I will never forget, a gift that will remain with me enriching my entire life.
Having informed his father Jerry 'Monk' Molelekwa of his decision to release the solo recordings Moses picked up the master tapes in London to compile the CD. Unfortunately these tapes got lost after his death but fate wanted it that unknown to us, Richard Edwards (engineer on Genes and Spirits) had made safety copies of the masters which were kept in a corner of our safe. These copies were presented to Taiwa's father and mentor Jerry Monk' Molelekwa on his visit to England in June 2001 to select the tracks and compile this album together with Chris Lewis who did a fine mastering job. Thanks to Peter Thwaites for the recordings and thanks god for having had the privilege to work with such a gentle genius!
A final offering to the world from a man whose genes and spirits will live on forever. RIP
Robert Trunz
JOANNA MAC GREGOR & MOSES TAIWA MOLELEKWA
Flyer for their UK Duo Tour sponsored by the British Council.
Joanna MacGregor's liner notes for the Solo Piano recordinig DARKNESS PASS.
MOSES TAIWA MOLELEKWA - LIVE AT THE FIN DE SIECLE FESTIVAL NANTES 1997(DVD MZADV001)
The 1997 series of rehearsals and gigs in Nantes was released in 2004 as a video documentary filmed by Dick Jewell and edited by Lianne Cox. The DVD is sub titled "La Dance Africaine du Jazz Piano" featuring Moses Taiwa Molelekwa, Kaya Mahlangu, Fana Zulu and Sello Montwedi.
Gwen Ansell dubbed this live performance as one of his best. Recorded and filmed during the Fin de Siecle Festival in Nantes France in 1997 this DVD contains not just Taiwa's concert performance but also some striking extracts from the afternoon rehearsals.
Sub Menu's of the DVD include: The Making of track Nobohle, the Music Video "Hungry on Arrival" filmed during the 1994 Outernational Meltdown recordings with Airto Moreira, Jose Neto, Fana Zulu, Byron Wallen, Shaluza Max and Moses co-producer Andrew Missingham.
Music videos of Darkness Pass, Spirits of Tembisa and Hungry on Arrival by award winning video director Lianne Cox, rare amateur footage of studio recordings, interviews with Monk Molelekwa (father of the late Taiwa) Pops Mohamed, Nicholas Swabile Hauser and MELT 2000 founder Robert Trunz plus a biography and pictures of the artist.
MOSES TAIWA MOLELEKWA - LIVE AT THE FIN DE SIECLE FESTIVAL NANTES 1997 (CD RELEASE MZADV001)
1997's gathering of some 380 artists from South Africa on the shores of the Atlantic in the west of France must be earmarked as the most impressive show of our country's culture beyond our borders. The idea of the Festival du Fin de Siecle was to invite to Nantes all kinds of cultural representatives from three of the world's great cities, in order to illustrate the creativity of each of these places at the dawn of the third millennium. The festival began in October 1997, with a celebration of Johannesburg, representing Africa, continent of roots.Beautiful costumes and great visual performances made the festival a unique event.
Several of the musicians like the late Moses Taiwa Molelekwa, Busi Mhlongo, Madala Kunene, Pops Mohamed and Amampondo that were invited to perform at Nantes were associated with MELT. The Melt crew recorded and filmed all the shows for future release starting the series with this unique recording of the late Moses Taiwa Molelekwa.
Moses Molelekwa arrived fresh from the studio in Johannesburg where he put the finishing touches on his then eagerly anticipated CD Genes and Spirits. Moses played in different formations: with Zolani Mkiva, with Sibongile Khumalo both in Paris and Nantes and with his band at La Tour a Plomb. Moses was accompanied by Khaya Mahlangu on sax and flute, Sello Montwedi on drums and Fana Zulu on bass.
Track Listing
1. BIKOS DREAM 11M 20S
2. MATSWALE 9M 58S
3. MOUNTAIN SHADE 13M 7S
4. DANCE TO AFRICA 6M 45S
5. NTATE MOHOLO 12M 58S
6. SPIRITS OF THEMBISA 8M
Moses Taiwa Molelekwa - Wa Mpona BW 2281
A moving document of Molelekwa's artistic progress, Wa Mpona includes two live tracks recorded in 1994 at a rare session at Cape Town's Baxter Theatre , where he worked with international musicians for the first time. His genius as a jazz improviser shines through the album's closing track, a live version of "Ntate Moholo", of Genes and Spirits fame, performed at the Cape Town North Sea jazz festival with his youthful band, including Moses Khumalo.
The title track of the new album, "Wa Mpona", has been described as the granddaddy of progressive kwaito. Produced during the recording of his seminal second album, Genes and Spirits, this entirely new composition was considered too advanced and too remote from mainstream jazz tastes to be included on that album. It features the additional rarety of Molelekwa on lead vocal, backed by Lungiswa Plaatjies. Several of the other compositions on Wa Mpona will be familiar to those who know Genes and Spirits and the other album released during Molelekwa's lifetime, Finding One Self. But, with one exception, they appear in startlingly new guises. The cool keyboard and programmed drumming of "Spirits of Tembisa" surfaces, transformed, in two remixes, one a tasteful arrangement with additional saxophone parts by Buddy Wells and his combo, Tribe. The latino rhythms of "Ntate Mohole" are amplified by the addition of congas and timbales to the piano support of Chucho Valdez. "Sing Along", previously released only on the limited South African edition of Barungwa's album, The Messenger, will be fresh to all but a tiny band of Molelekwa aficionados. A galaxy of local jazz stars feed their talents into these works, including Jimmy Dludlu, Vusi Khumalo, Fana Zulu, McCoy Mrubatha and Sipho Gumede.
The fact that Molelekwa's voice and fingers have been stilled forever gives special poignancy to these performances. The quality of the musicial inspiration, and the sense of so much promise waiting to be tapped, underline how much has been lost to South African music. Lyrical and powerfully energetic by turns, they are both distinctively South African and part of larger world idiom. Perhaps more than any other South African musician of the modern period, Molelekwa looked back into the country's past while pointing to its future.
MOSES TAIWA MOLELEKWA - LIVE IN JO'BURG (MZA027)
Piano & keyboards: Moses Taiwa Molelekwa - Drums: Sello Montwedi - Bass: Joss Dhlathu - Percussion: Tlale Makhene - Keyboards: Robert Manaso - Sax: Moses Khumalo
Thanks to Martin Horne for conserving this concert - Respect!
NOBOHLE (2:18)
DOWN ROCKEY STREET (8:53)
GENES AND SPIRITS (9:36)
NEW YEAR - NEW MAN (7:12)
EH EH AH (6:32)
BO MOLELEKKWA (5:55)
KIPPIE'S SAMBA (4:00)
SPIRITS OF TEMBISA (4:17)
NEW OFFERINGS (7:11)
DJAMBO DJAMBO (5:32)
ITUMELENG (6:23)
MEDLEY / MALAIKA and YOU ARE THE SUNSHINE OF MY LIFE (9:01)
MOSES TAIWA MOLELEKWA - LIVE AT KIPPIES SET 1 (MZA0550
THE LAST CONCERT recorded 2 days prior to Moses tragic death on the 11th of February 2001 with Moses Taiwa Molelekwa, Moses Khumalo, Joss Jaws Dhlathu, Tlale Makhene & Robert Manasoe.
1. Rapela 2. Nobhle 3. Down Rockey Street4. New Year-New Man 5. Eh Eh Ah 6. Bo Molelekwa7. New Samba
MOSES TAIWA MOLELEKWA - LIVE AT KIPPIES SET 2 (MZA056)