Max Laesser
Born in 1950, Max Lässer has long been one of the most successful and creative of Swiss guitarists. A professional musician since the 70s, his early years were devoted to folk music, and as his music started to evolve he spent many happy and successful years working with Toni Vescoli. In the mid-eighties, Lässer was part of Andreas Vollenweider & Friends, with whom he toured Europe and America, playing some 80 gigs. Following this he went on to play as a jobbing guitarist for the likes of Andreas Vollenweider and Stephan Eicher, and as a producer for Jellyfish Kiss and Les Reines Prochaines. Lässer's highly individual and quite unmistakable sound was fully realised with 4 of his albums by 'Max Lässer's Ark'. Earthwalk, his 1987 album, made its way to the top of the American jazz charts, but it is only when he travelled to Joburg to work with local artist thatMax realised how well known this music was and still is in the townships of South Africa. Max worked on 3 projects with artists from the MELT 2000 catalog.
MAX LAESSER - BETWEEN (BW103)
"Through the invitation of Robert Trunz to join a session in Johannesburg, I became friends with some very talented musicians with whom I spent 3 weeks of working and recording.The voices of Busi Mhlongo and Lungiswa Plaatjies opened new jorizons to me and they ended up writing lyrics to my music. This wonderful experience made me forget my initial plans and i din't want to hide it from my listeners" - Max Laesser
Between features South African artists Busi Mhlongo, Lungiswa Plaatjies, Pops Mohamed,Mabi Gabriel Thobejane, Marilyn Mokwe, Phumzil Mtuli, Beanlah Hashe, Nomfundo Mayekiso, Michael Ludonga and Amampondo singers. other artist on the album are walter Keiser, Jessica Lauren, Philippe Kueng, Emmanuel Sejourne, Steve Arguelles, Heiri Kaenzig, Stuart Hall, Daniel Almada, Reto von Salis, Christoph Stiefel, Philippe GeissIke Leo, Corin Curchellas, Hank Shizzoe and the leader Max Laesser. Between came out in 1997 an it is full of surprises; the result of both a new beginning and a breakthrough. With rhythmic eloquence, it documents the milestones of a musical- and above all a personal process of growth with power and verve. The first fruit of this development is his collaboration with a group of female singers and musicians from South Africa. Over a decade and four albums with his Ark project, Max Laesser developed a uniquely luscious sound. Now, with Little Ark, Laesser stripped down his sound to affect the listener in a more direct, primordial way. "I used to place the music in the foreground, so I could hide behind it," Laesser confesses. "That concept no longer works."
Liberated from the constraints placed upon him by an outworn concept, an untrammeled joy in playing breaks through. "I have tried to grasp the essence of immediate experience," says Max. So the numbers recorded with the band are now played together with the live solos. "We decided to keep all the mistakes. Of course there was great temptation to play around with the individual numbers, but then much of the intensity of the recordings would have been lost." The key to the album is the title song, 'Between'. It links the harmonious melodies of earlier days with Laesser's newly discovered spontaneity. "Bhoyi" is intense, its tension draw from the opposition between a typical, lyrical Lässer arrangement and Busi Mhlongo's singing and earthy mbira textures.'Kumnand'i is an enchanting song that acquires its peculiar resonance from the clear voice of South African singer, Lungiswa Plaatjies, and the penetrating sound of the choir. Home is a piece created at the end of 1995 in South Africa, bin which a kora, played by Pops Mohamed, can be heard for the first time in Max's music: "The idea came to me in a few seconds; it is a very simple melody that gave me the feeling of being back where I really feel at home."
Although 'Between' is an album that heralds the beginning of a new musical development, Laesser never loses his orientation: "I feel quite clearly that I am in the middle of this process. I've abandoned a structure that gave me a strong sense of security for many years. I must admit the new territory that I've entered makes me apprehensive, but optimism has definitely been the dominant note in my experience during the recording, especially in South Africa."
Max Laesser has not broken completely with his past, but has remained true to his greatest strength: his music evokes an atmosphere that never leaves one unmoved.
for more info visit: http://maxlaesser.com/

Rehearsing in Switzerland for their tour of BETWEEN with Buehne Huber (Patent Ochsner) and Busi Mhlongo having fun.
MAX LAESSER & MADALA KUNENE - MADAMAX (BW2119)
MADAMAX is a superb collaboration between veteran artists - Madala Kunene and Swiss guitar supremo Max Lässer. The 1995 collaboration with South African guitarist Madala Kunene and Lungiswa received a lot of rave comments from the press and was compared by many journalists with Ali Faka Toure's work with Ry Cooder. Madala says: "I first met Max at a studio in Johannesburg in 1995, because of a session that Robert Trunz had organised at at the Downtown Studios in Johannesburg." Great creative empathy and feeling was shared between exceptional artists for this project. During his stay in Joburg Max had successfully recorded with other South African artists who have added special flavours and extra dimensions to his already distinctive work. With Madala, however, what started off as "a real jam" started "becoming a new thing". They even recorded their first takes, giving the sound a crisp freshness and playful sophistication. The result ? In Max Lässer's words "Unique music happened".
Madala echoes this, "We sat together the whole night. I just took the guitar and played and everybody sang along." It was not yet obvious something big was going to come of it, "I was not expecting that this music would be released on CD. We were just playing together. We finished the session, and since that day we have been great friends, as if we'd known each other 20 years. I liked his heart - he was a fine man."
All of the songs on the album were written by both Max and Madala, the words written by Madala Kunene. After their initial sessions in South Africa, Max Lässer had the creative freedom to arrange and produce the work himself and invited Madala to Switzerland to continue adding more arrangements. They added extra keyboards and a brass section to the recordings, overdubbed 'Impukane' with bass and drums, and wrote two new songs 'Gongo' and 'Cow Song'. Lungiswa Lulu Plaatjies of Amampondo contributed her haunting vocals and the American lap-steel guitarist David Lindley added his part to 'Impukane'.
Max on meeting Madala Kunene: " It was like finding a brother from another culture and part of the world. He really opened my heart to African music and to a different view of playing music than I was used to. He really made me play some of my best yet." Robert Trunz has described the collaboration as an "epiphany" a "profound connection" between Europe and Africa. It was such an uplifting experience that these two talented artists decided to take their unique collaborative sound on tour in Switzerland. Lungiswa Plaatjies joined them- stunning the crowd with her beautiful rendition of 'Kumnandi'.
for more info visit: http://maxlaesser.com/
MAX LAESSER & MADALA KUNENE - MADAMAX BAFO (MZA044)
Max Laesser, Madala Kunene, Walter Keiser, Bernard Sibusiso Mndaweni, Lungiswa Plaatjies, Christoph Stiefel and a guest appearance by Simpiwe Matole. Madamax BAFO was released in South Africa in 2006, ten years after the original Madamax release which was recorded at Downtown Studios in Johannesburg. Madamax BAFO was recorded and mixed by Rolf Stauffacher & Max Lasser at Starboat Studio in Baden (Switzerland) except for track 10 recorded on Minidisk in Kommetjie, Cape Town.
for more info visit: http://maxlaesser.com/
1. Unogwaja
2. Yelele
3.. Amasi
4. Namhla Kungawe
5. First Jam
6. Bafo
7. Merisha
8. Siyakhala
9. Emagcekeni
10. Kommetjie
11. Ucilo
12. Ulimmat
13. Ubongo
14. Uthando
15. Unogwaja (Later)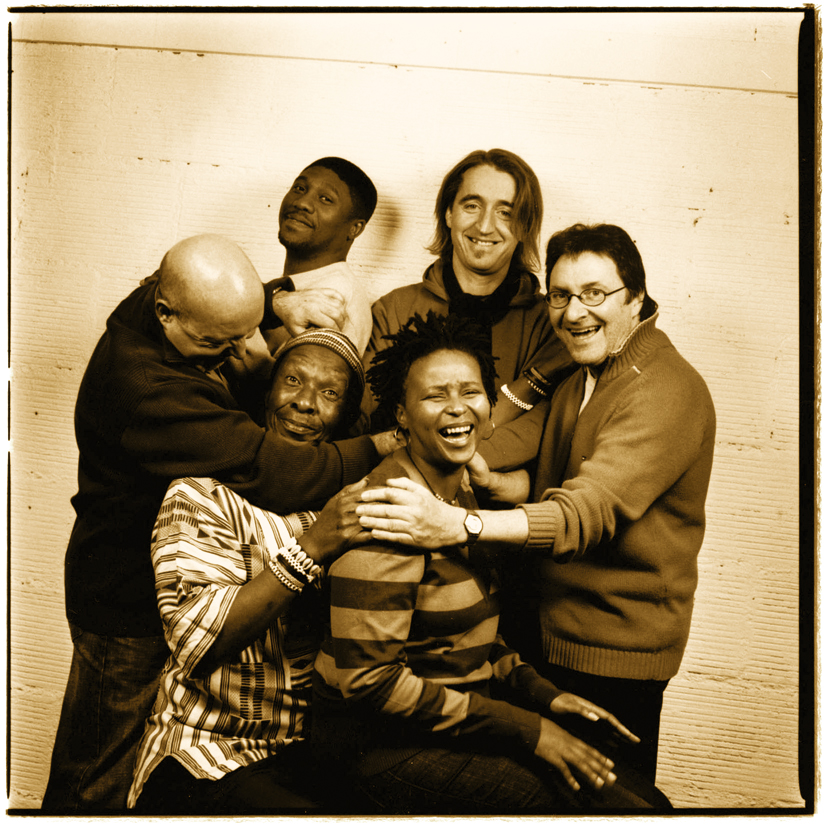 THE MADAMAX BAFO TEAM
Walter Keiser, Madala Kunene, Bernard Sibusiso Mndaweni, Lungiswa Plaatjies, Christoph Stiefel and Max Laesser,
Bernard Sibusiso Mndaweni
Walter Keiser (TV screen) and Madala in the background