Lungiswa Plaatjies
Lungiswa Plaatjies or Lulu as her friends call her, was born in 1973 in Cape Town, Langa Location where her grandfather was the traditional healer. It was he who encouraged her to develop her talents, teaching her to sing and dance. Music was an integral part of her childhood and family life. At the tender age of seven she joined her uncle Dizu's famous group Amampondo, giving her invaluable musical inspiration and experience. With them she recorded their first album at the age of ten called 'Uyandibza' which soon became a big seller all over the world. Whilst she was attending school she became a member of both the school and the church choir, which she attended with her grandfather while the group was on tour.
LUNGISWA - EKHAYA (BWSA106)
PRODUCER: Tony Thorpe (Language)
Extract from SA Rock Digest Top 30 Albums(Year 2000)
Lungiswa "Lulu" Plaajties had more than served her apprenticeship in the Amampondo musical family/collective, and it was time for her to record her own album. MELT 2000 boss Robert Trunz made it happen and the result is our strongest contender for SA/World album of the year. 'Lungiswa' merges African rhythms and languages, acoustic and indigenous instruments, Motown and Maskanda, and her gorgeous voice in an album that is a sheer delight. From the opening lullaby version of our anthem and her spoken self-introduction right through to her impassioned version of Marvin Gaye's 'Inner City Blues', 'Lungiswa' is this year's 'Urbanzulu'.
Lulu Lungiswa Plaatjies is the first ever South African artist to attract the attention of a master like Tony Thorpe, Language label owner and producer. Correspondingly, her new album 'Ekhaya' reflects her outstanding vocal talents perfectly. Combining her powerful native singing voice with the contemporary urban sounds that are Tony Thorpe's trademark, her album includes an original and wonderful rework of the South African National Anthem, and a version of Marvin Gaye's 'Inner City Blues' sung in her Xhosa tongue. Backed by the dramatic and sensitive percussive support of Amampondo, Lungiswa has created a timeless album with popular appeal.
Featured artists on Ekhaya: Bass – Nik Cohen, Congas – Mabi Thobejane, Djembe, Vocals – Amampondo , Drums – Andy Gungadeen, Kudu Horns – Michael Ludonga, Mzwandile Qotoyi, Simpiwe Matole, Xola Mlambo, Keyboards – Nick Coler, Simon Wallace, Simon Davies, Marimba – Mandla Lande, Percussion – James Mac, Percussion [Tablas] – Naushad Sheikh, Saxophone – Tony Kof, Trombone – Trevor Edwards, Trumpet – Kevin Day
Picture above: Simpiwe Matole, Dizu Plaatjies, Mzwandile Qotoyi and Lungiswa 1996
Lungiswa on tour with Amampondo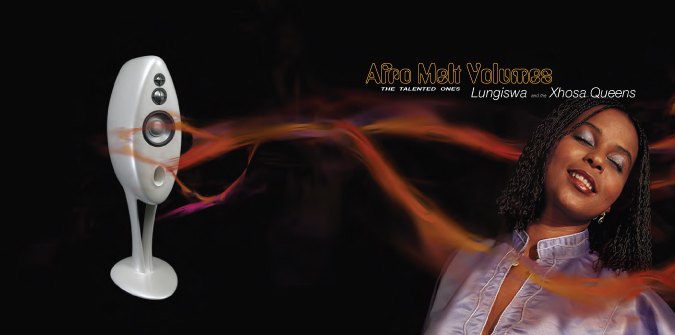 REMIX PROJECT - AFRO MELT VOLUMES THE TALENTED ONES
Lungiswa composed and sings the song Bokwanyana (Goat) together with Busi Mhlongo on the Remix CD "AFRO MELT VOLUMES - BUSI MHLONGO" (MZA053)
MADAMAX MAX LASSER & MADALA KUNENE - BAFO (MZA044)
DOWNLOAD ALBUM featuring Lungiswa and Bernard Mndaweni from the MELT 200 label.
Lungiswa in Switzerland recording with Max Laesser and Madala Kunene.
MADAMAX MAX LAESSER & MADALA KUNENE - MADAMAX