Kalahari Surfers & Greg Hunter
In 1998 Robert Trunz had the notion that an album by a group from Cape Town called TransSky (Brendan Jury & Warrick Sony) produced by Greg Hunter would be a good thing. He set about making it happen first getting Greg to Cape Town and booking a couple of weeks time with what was then Shifty Studios. Getting to know and work with Greg through this period was a great education and a privilege for me. I learned a lot about the world of synthesized ORB style sound and frozen ants. This was the first of three work periods with Greg which spanned three years. It was, however, the period where we all did the preliminary recordings which would form the texture of the whole album. Everything was recorded and assembled onto 24-track ADAT system using an old Protools system to edit and loop. All sounds were originated by our performances and those of the special sessions which we hosted at the studio. Brendan had left Cape Town and the project by the time of Greg's second and third visits which saw the pieces morphing into huge sound epics with sampled and performed merging together processed and squeezed into the ether. Strings and things were developed and added at Milestone. Speakers were blown. Greg left with a box of mixes and we resolved to do a track each separately and release it all as a band called PLINC the album Turntabla. Greg was never entirely happy with many of the tracks and the distance and interest made the project difficult to complete for him, other things cropped up and life overtook us all. Robert approached me towards the end of 2007 and asked if I would revisit it as a Kalahari Surfer and finish it off, which I did. Many of the original pieces had chunks of samples that we could never hope to clear without great expense so I had to strip things out rework, replay and remix. These were sent to Greg who sprang some new mixes into the timeline and gave constructive spiritual guidance. This then is the final putting to bed Turntabla with the last track being a homage to the great intelligence which guides us all. Om purnam ada punam idam
Thanks to Robert Trunz for a decade of patience.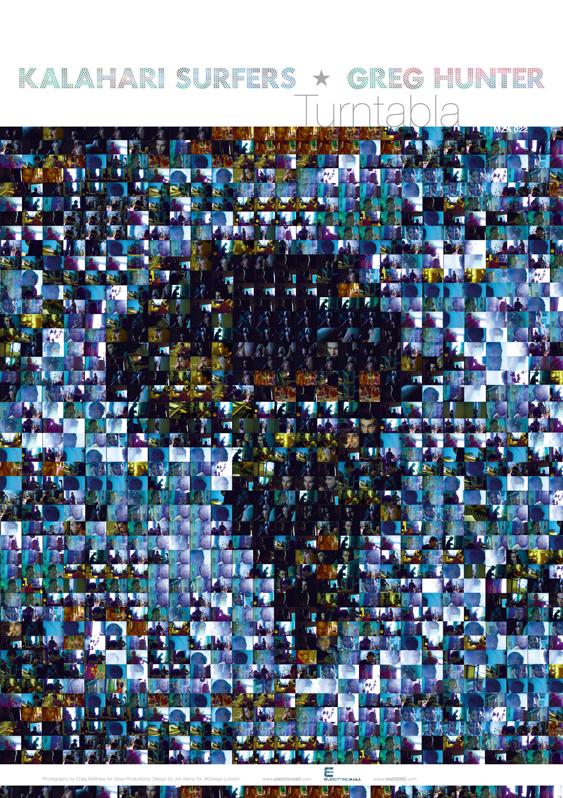 KALAHARI SURFERS & GREG HUNTER - TURNTABLA (MZA022022)
Track listing & performers
1. Kunene Jazz Drive Kekapa performed his own words in Owambo language. Recorded at Epupa for Doxa Productions for the film Ochre and Water. Used by permission.Greg played bass, berimbau, piano, percussion and distorting things. Warrick played tabla, turntable (chicken scratching), mbira, fuzz washboard, percussion and Murray's old guitar. Harrys Sepedi Choir sang in at the end. 2. Gita Madala Kunene played acoustic guitar. Warrick Sony played tabla, bass, turntable, percussion, veena, 2008 mix. Greg Hunter played bass, drum kit, marimba, various percussion & original arrangement. Kris Weston played guitar and did some percussion.
Petrus Mbila played mbira and the Venda Sisters backing vocals. Tjikorna pipes recorded in Venda by Warrick for the film Two Rivers. Pygmy water music samples courtesy of Silent Music Records. 3. Wading Through The Sea Greg did the programming, sample preparation, 2009 mix. Warrick played bass, drums, tabla, turntable (chicken scratch and Indian film Lp's) and the 2008 arrangement and mix. Chris Engel played baritone sax. 4. Epupa Falls Warrick played bass, drum prog, tabla, turntable, dodgy trombone and 2008 mix. Greg played berimbau, processed a lot of viola and did the original arrangement 1999. Brendan played viola and did some processing. Unidentified Himba girl recorded at Epupa for Doxa Productions for the film Ochre and Water Used by permission. 5. What Is She Saying To Me Greg played bass berimbau, guitar, and did the string arrangement and original arrangement.Warrick played and programmed tabla, mridangam and did turntables did 2008 version. UCT String Quartet played the strings. Doug Armstrong helped arrange strings. Brendan Jury played additional viola and processed viola. Main vocal by Busi Mhlongo. Backing singers from the Amampondo group. 6. Dawn Greg did the arrangement and composition. Pondo Girls singing. 7. Garuda Express Greg Hunter played guitar did this mix and arranged strings.Kris Weston played guitar.Warrick played tabla, mridangam, turntables. Brendan played viola.UCT String Quartet played the strings. Doug Armstrong helped arrange strings.Ibrahim Abubakar vocal. 8. Another Goat Original mix and arrangement. 9. Lisa Upanishad Brendan played viola and processing. Warrick played percussion, veena, turntable, dodgy trombone 2008 version. Greg played percussion, made loops, drones and did original arrangement. Amampondo played the marimbas.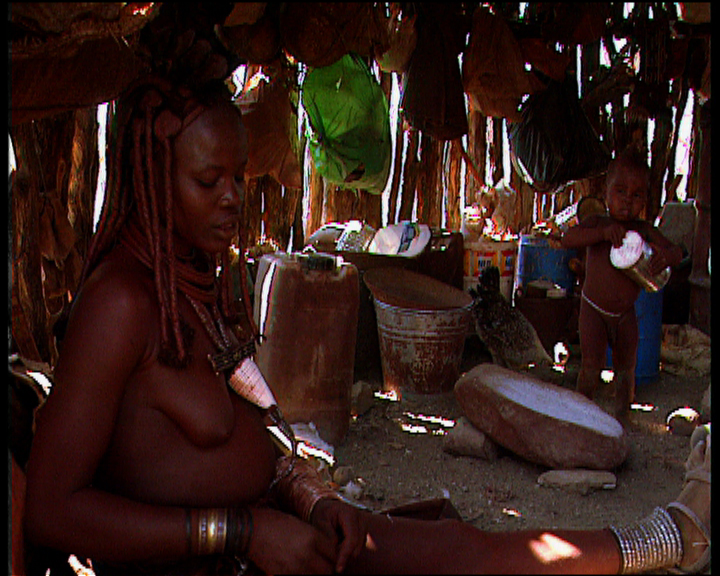 Recording at Shifty in Cape Town with Warrick Sony, Greg Hunter and Brendan Jury