Changuito
The legendary Cuban percussionist Changuito (Jose Luis Quintana) was born in Casablanca, across the bay from Havana on 18th January 1948. He embarked upon his musical career in 1956 at the tender age of eight, becoming a professional musician with the 'Havana Jazz' band directed by Tomas Gonzalez. During this initiation Changuito played music with his father, who was also a musical maestro. He then begun playing with an unusual young band called 'la Pandilla de los Cabezas de Perros', and aged eleven he joined the band 'Cuba Mambo' under the direction of Rolando Garcia. This band was based in Guanabacoa, just outside Havana where Changuito now lives. By the age of twelve he was regularly appearing at the Morroco nightclub on Havana's Prado Boulevard in Old Havana whilst still continuing to play in various bands in Havana. Aged 13, Changuito volunteered for military service and played in army bands and joined 'Estrellas de Occidente' ­ a Jazz band - for the whole three years he was in the military. In 1964 he left the military and joined 'Los Harmonicos' under the direction of Phillipe Dulzaides. They achieved considerable fame in Cuba, appearing on TV many times. After this he joined the band 'Sonorama 6' for a year, which was based at the exclusive La Torre club in Habana's famous Focsa building. During 1968 he was working as a drummer with two bands: 'Souvinir' and 'La Orchestra de Musica Moderna' based in the province of Pinar del Rio. In 1970 he returned to Havana and joined 'Los Van Van'. Los Van Van soon became one of the most popular Cuban orchestras in the world, achieving international recognition and fame. With this band Changuito inaugurated the 'songo', where the original combination of percussion instruments (timbales, cowbells, woodblocks, electronic drums and cymbals) and the technical displacement of hands sealed a distinctive and highly original touch.
Changuito made his first solo recording in 1992, which led to global recognition as a musician and teacher of percussion. He has taught many famous percussionists such as Giovanni Hidalgo and Karl Perazzo (Santana), and in 1996 won the Grammy Award for 'Ritmo y Candela'. This Cuban master conga and timbale player first appeared on Melt 2000 in 1994, contributing to Flora Purim's album, 'Speed of Light'.
The following year in November 1995, Robert Trunz embarked upon the second leg of the Meltdown recordings in South Africa inviting Changuito to join him. During these recordings Changuito fell in love with yet another vast array of African percussion instruments which transformed with his guidance into new sounds. A few months later he came to England to work with Amampondo and Airto Moreira at Brownhill Farm, and decided to record a solo album two days prior to his departure, leaving instructions for overdubs with friends such as Chucho Valdes. The album Syncopation was produced by Tony Thorpe and is an interpretation of what can happen when Havana, London and Jo'burg collaborate. Some of Changuito's work with MELT is featured in the following albums:
featuring on:
Amampondo Africa 2000 (DVD)
Flora Purim - Speed of Light (originally recorded by MELT 2000)
Fidel Pondo - traditional Xhosa music meets Cuba
Music With No Name vol 3
Jose Luis Quintana Fuerte, more commonly known as Changuito (a name that comes from Chango, the thunder god of the Yoruban religion), has done more to influence the Latin percussion world and the role of the timbales and drum set in that world than nearly any other artist in the last century. His groundbreaking work with Cuban dance band Los Van Van defined an entire era of Cuban music. Changuito, being a talented instructor as well as performer, has also taught some of the next generation's finest percussionists, including conga master Giovanni Hidalgo. Changuito's debut solo record is, however, not what one might expect. The self-titled record, a collaboration with electronica trendsetter Tony Thorpe, is a mysterious, jungle-like sonic landscape that draws as much on Thorpe's "sounds from the beyond" as Changuito's ripping conga technique. Cuban music purists may be disappointed or irritated that Changuito's first shot at filling a whole disc with his brilliance is not a string of timbale solos and diesel-powered Latin jazz. However, Changuito's choice to experiment with urban and electronic sounds proves him to be a master musician, not a master technician. Every one of the ten tracks explores a different avenue, a new conversation between rhumbero and hip-hopper, between Changuito's Havana and Thorpe's London. Syncopation is not your regular Cuban maestro album as it was produced by electronica producer Tony Thorpe (Language Records) in the absence of the Maestro. The album blends his virtuoso percussive talents and Cuban grooves with dance floor beats and contemporary electronica. Tony Thorpe's production skills were added to the raw elements, creating a fusion of Latin rhythms with trip hop and drum 'n bass.
MELT 2000's first encounter with Changuito dates back to 1993 when he attended the recording session of Flora Purim's album Speed of Light at Real World Studio in Box (UK). Flora Purim was joined by some of the world's leading percussionists including her husband Airto Moreira and daughter Diana. The following pictures show some of the legends like Billy Cobham who attended that recording session.
 
FLORA PURIM - SPEED OF LIGHT
Robby Geerken, Flora Purim, Changuito and Giovanni Hidalgo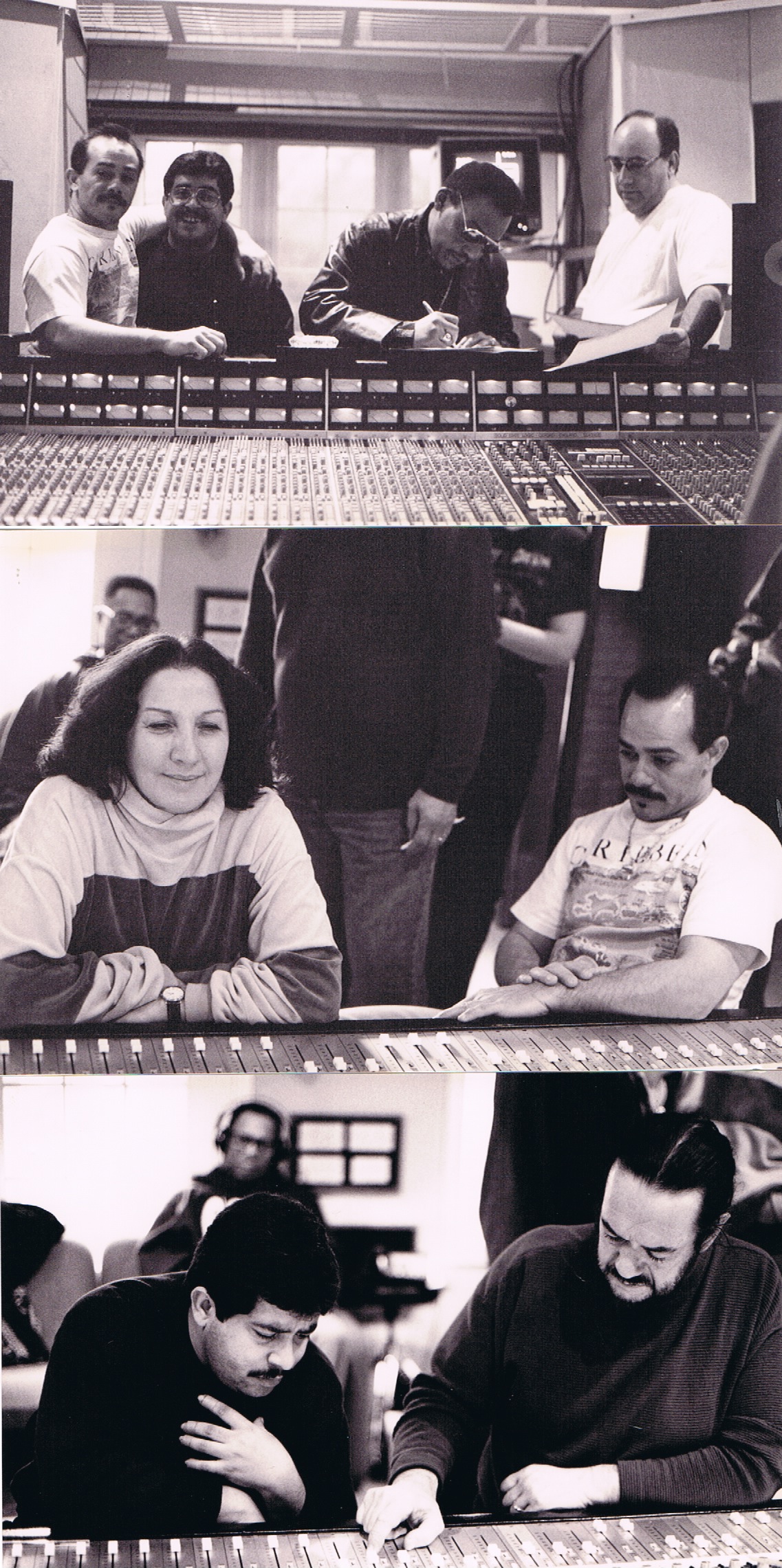 Participants pictured here included Freddie Santiago, Robert Trunz, Billy Cobham and Airto Moreira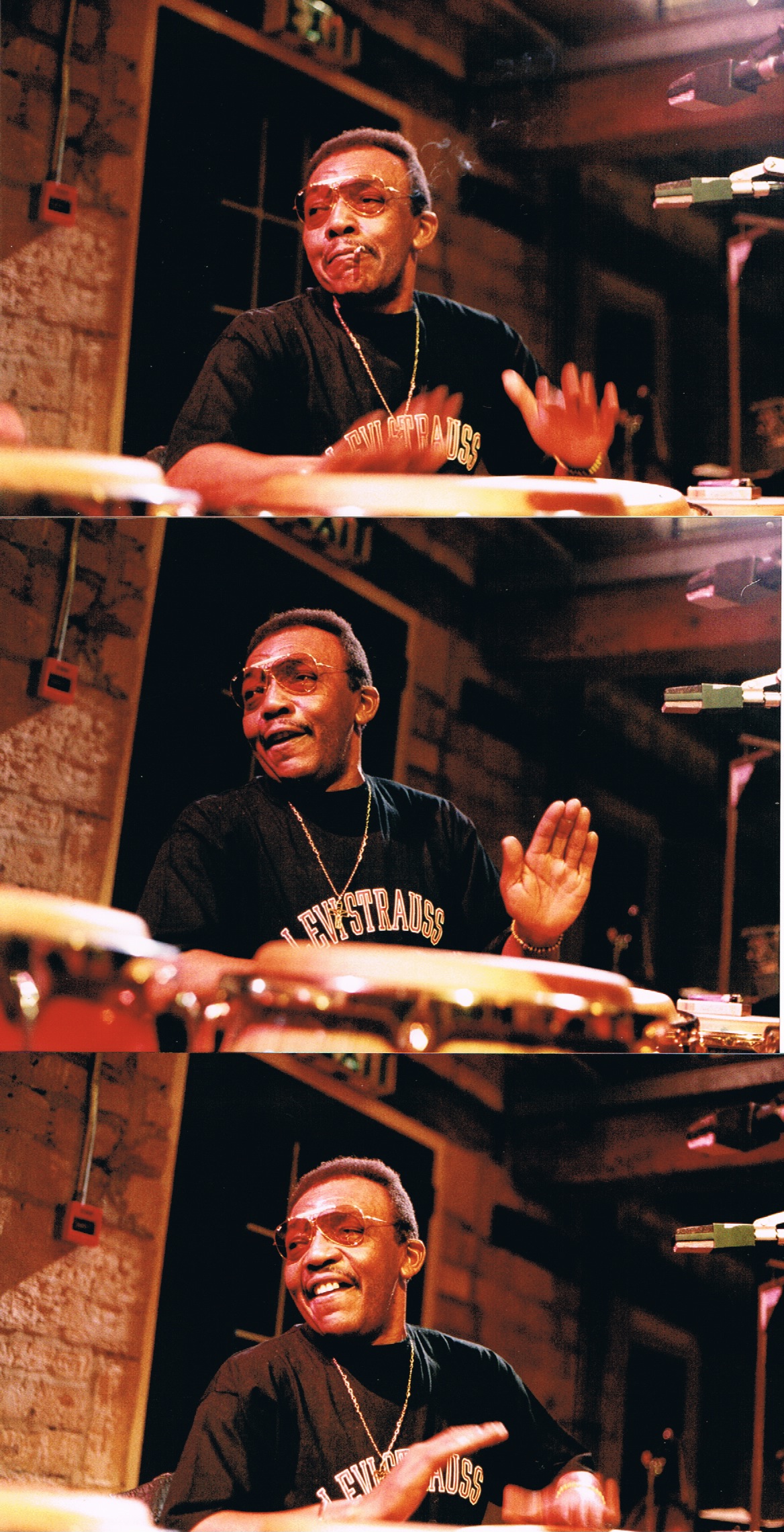 Changuito at Market Theatre Square in Johannesburg 1995. In an interview in Spanish following the events in Joburg, Changuito talks about the unique collaboration with Amampondo.
DIZU PLAATJIES, MZWANDILE QOTOYI & CHANGUITO - FIDEL PONDO (MZA016)
For the second gathering of THE OUTERNATIONAL MELTDOWN in 1995 we took two of the most accomplished percussionists from Cuba to Johannnesburg. During the sessions, again at the Downtown Studios, many legendary South African artists like Zim Ngqwana, Sipho Gumede, Mabi Thobejane and Madala Kunene worked with the Cubans headed by Changuito. A collaboration that established a deep friendship and brotherhood between the South African and Cuban artists - well ahead of later political alliances ! We chose the name Fidel Pondo is in honor of Fidel Castro and Nelson Mandela. On this CD members of Amampondo and their Cuban guests created the first ever South Africa-Cuban collaboration melting traditional Xhosa- with Cuban rhythms.
AFRICA 2000 with Amampondo & Guests: Brice Wassy, Airto Moreira, Jose Luis Quintana aka Changuito, Mabi Gabriel Thobejane & Mantombe Matitiyana
The Pondos are: Dizu Plaatjies, Simpiwe Matole, Michael Ludonga, Mzwandile Qotoyi, Mandla Lande, Zandisile Mbizela aka Blackie, Xola Mlambo, Lungiswa Plaatjies, Nomfundo Mayekiso, Mandisa Menisi, Byron Wallen and the Risenga Makondo Band
AFRICA 2000 Bonus Features with:
Madala Kunene, Mabi Gabriel Thobejane, Airto Moreira, Changuito and Brice Wassy plus the Pondo backing vocalists listed above
Jose Luis Quintana aka CHANGUITO with 2 solo tracks
MUSIC WITH NO NAME VOL. 3 - VIBRATIONS FROM THE MOTHERLAND
Changuito appears on two remix tracks on this release:
Neon Heights, Changuito & Amampondo MO' PANCHO
Composers and Arrangers: Cal Gibson & Tom Bailey for Neon Heights (MCPS/RPS) and Dizu Plaatjies, Mzwandile Qotoyi, Mandla Lande, Michael Ludonga and Blackie Lex Mbizela and Jose Luis Quintana aka Changuito for Amampondo (MELT 2000 Publishing SA) from the track A Ma Pancho released on the Amampondo album "Raw & Undiluted" (MZA 014)
Volver + Fidel Mpondo MANDIPWOMAN
original featuring Changuito, composed by Dizu Plaatjies & Mzwandile Qotoyi , original track released on the album Fidel Pondos (MZA016)