Busi Mhlongo
"I was always singing. At school, after school. I was the laziest one in my family because I just didn't have time; my time was for music, you know. I was always being punished, but I knew whenever I was punished it was because it had to do with some notes that someone - whether it was a band, or just a man playing guitar - I'd follow." Busi Mhlongo
Ranked alongside Miriam Makeba, Letta Mbulu and The Mohatella Queens, unique in being the first female to be spreading the maskanda style of vocals internationally, Busi has been applauded by audiences the world over. Busi scored many SAMA- and a KORA award "The sound is hip, quirky and compelling, upbeat in a modern, upfront way" "Busi's voice is rich and variable, coveing textural and stylistic boundaries." The Guardian "Urbanzulu is a triumphant affirmation of her mature expressive powers." The Wire "Busi's stunning hybrid Zulu/English vocals takes the distinctive flavour of Maskanda and creates pan-African pop with a western twist." Big Issue.
Mam Busi sadly lost her fight with breast cancer on the 15th of June 2010
BUSI MHLONGO - URBANZULU (BWSA 2118)
RELEASED IN 1997 URBANZULU IS THE ULTIMATE AND MOST SUCCESSFUL ALBUM FROM THE DIVA OF AFRO POP.
When we first started working on these awesome songs penned by Themba, Spectre and Busi, the style was recognizably traditional maskanda. Over the months of work, the maskanda in this album metamorphosed, deepened, widened and finally has come to represent the contemporary Zulu Nation's truest form of expression, with all the agony, the ecstacy, the pain and sorrow, the trials and ironies of life in the modern South Africa.
This is the first time maskanda has been expressed by a Zulu woman, and who better than Busi Mhlongo, one of the great voices of Africa. A truly astonishing performer on the stage and in the studio, her original creativity as expressed here represents a quantum leap in South Afrikan music. This is maskanda for the millennium. Listen and be humbled. (Will Mowat-Producer). Almost alone among contemporary South African musicians, her songs tell us of the struggle for existence, the destruction of traditional culture and the need to 're-invent' tradition in the context of the new situation. In URBANZULU, Busi has succeeded in melting traditional Zulu music into a new one that informs us both of its roots and of the concerns of contemporary South African women. Based on a traditional Zulu musical form Maskanda , "URBANZULU" is revolutionary on two levels. Firstly it's being sung by a woman and secondly, it extends the traditional into the contemporary without losing anything of its roots. If you want to hear the cutting edge of contemporary South African music then this a must buy album (William Bowles).
BUSI MHLONGO - URBANZULU REMIXES
Tracks from Busi Mhlongo's debut MELT album Urbanzulu remixed and produced in 1997 by some of the most exciting names in South African kwaito and electronica like Gabi LeRoux or The Kalahari Surfers. The remainig remixes cameof the late 90'sas well as one of London's top house DJ's.
Tracks 1 & 3 - Oxamu The ibomvu Dance Remix by Gabi LeRoux,
Tracks 2, 4 & 9 - Yehlisan'umoya ma-Afrika - Soul II Black Remixes, Track 5 - Oxamu The London Mix Mario Cee, Track 6 - Yehlisan'umoya ma-Afrika - The Kalahari Surfers Rock Remix, Track 7 - Uganga Nge Ngane (Bonus Track)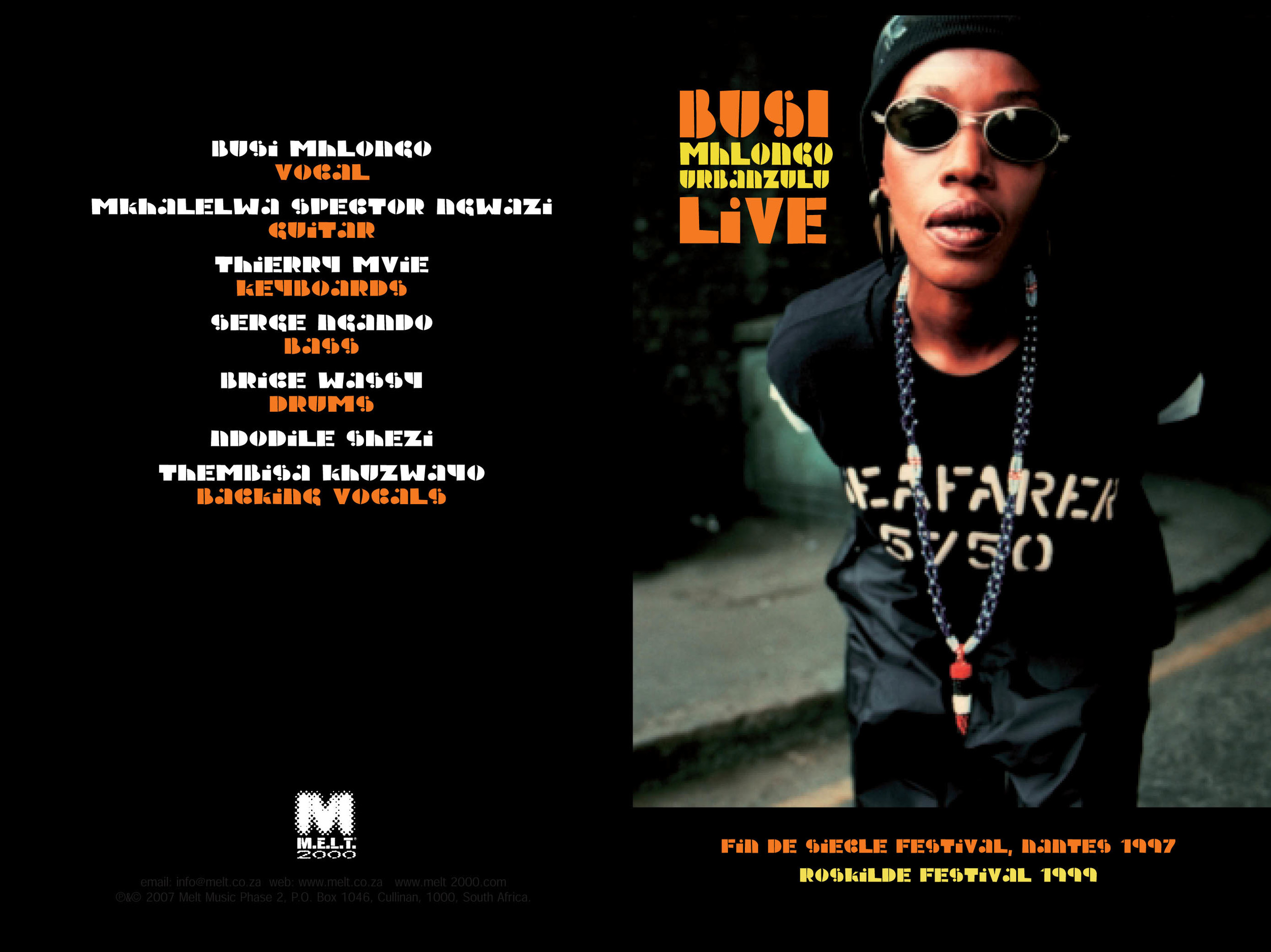 BUSI MHLONGO - URBANZULU LIVE (DVD & CD) MZADV-CD004V
2007 - exactly one decade after the release of the album URBANZULU theMELT 2000 video archives revealed some amazingvideo and audiofootage of the late Busi Mhlongo's inaugural concert in Nantes (France) and her stunning performance at the Roskilde Festival (Denmark). The DVD and CD contain live songs from her original album URBANZULU performed only the way the award winning Diva of African Pop possibly can - rare footage of the explosive power of Busi at her peak.
MAX LAESSER'S LITTLE ARK - BETWEEN (BW103)
Recorded 1995 in Switzerland and South Africa, Between features collaborations with artists of the MELT label including Busi Mhlongo, Lungiswa, Pops Mohamed, Amampondo & Jessica Lauren. Four years after A Different Kind Of Blue (BW018), Max Lässer brought out his Between, full of surprises; - the result of both a new beginning and a breakthrough. With rhythmic eloquence, it documents the milestones of a musical- and above all a personal process of growth with power and verve. Between was originally planned as a solo project, but then Max got a shot of Afro-rhythm while recording on Robert Trunz's invitation in Johannesburg with local musicians from the MELT family. Max followed the album and its rhythm by touring Switzerland with such artists as Pops Mohamed, Busi Mhlongo, members of Amampondo including Lungwisa Plaatjies, Dizu Plaatjies, Mzwandile Qotoyi and Simpiwe Matole, all of whom appear on the album, Between, along with the likes of Jessica Lauren, Sipho Gumede and Mabi Thobejane.
BUSI MHLONGO - INDIZA (The Journey) MZA003
Indiza (Voyages) introduces not only the unique and new rhythms of drum master and producer Brice Wassy but also a collaboration with Oumu Sangare from Mali with whom Busi shared the stage many times during their extensive touring schedules in Europe..
Long time friend Mabi Thobejane and Cape producer Ben Amato pay their respect on a remix of Indiza on track 4. Khuzani the second of Wassy's productions features Cuban and Latin beats on track 5 and a Cuban style drum n bass remix by London underground producer Chris Mack. More in the current House music trend is Flipper Dalton's (UK) remix of Way of Baba from the ADIDAS ad tune We Baba Omncane. Yehlisanumoya ma Afrika (African Nation calm!) remix by Soul II Black was previously released on the URBANZULU REMIXES album rounds up a voyage that lasted 7 years in which period Busi rose to become the undoubted Musical Queen of South Africa.
1. Ntandane Y ibomvu - Gabi Le Roux Tribal Mix (6:19)
2. OxamuClub 3-30 Dub Mix (4:25)
3. Indiza - Voyages (4:22)
4. Indiza (Voyages) - Steam Dream Mix (4:51)
5. Khuzani (4:47) - Lyrics by Busi Mhlongo
6. Khuzani - Cuban Drum'n Bass Remix (4:54) remixed by Chris Mack (London, UK)
7. Way of Baba - Busi Mhlongo & Flipper Dalton, London (UK) (7:25)
8. Oxamu (The Crocodile) - Club 3-30 Tribal House Mix (7:52)
9. Yehlisanumoya maAfrika (African Nation calm!) (5:43)
10. Ntandane Y ibomvu - Gabi Le Roux House Mix (5:51)
11. Introduction Busi Mhlongo (0:05)
12. OxamuClub 3-30 Radio Edit (4:58)
YEHLISAN'UMOYA AZANIA (IN THE MIX) MZA 050
WE MISS YOU MUM BUSI
When we asked dance and electronica producers to pay tribute to the late Diva of South African Pop & Maskanda we didn't expect such excitement from not just the up & coming but also the cream of producers from South Africa and Europe. This is the first in a series of 3 CD's with remixes and new productions celebrating the life of Busi Mhlongo.
Tracks: 1 Webaba - Black Coffee & Culoe de Song 2 Uyeph'unembeza (Hip hop, dub mix by Monde Mkhizwana 3 Izizwe - Black Coffee 4 Baba We (Deep) Frederic Galliano 5 Crocodiles - Soothsayers (UK) 6 Father of my Children - Castro B 7 Hlisani Umova - DJ Zee 8 Webaba - Culoe de Song 9 Yintoni Na - Black Coffee 10 Lua Lua - DJ Qness (Zulu Warrior mix) 11 Sibuza Indlela - Rudeboy Paul 12 What is she saying to me? - Kalahari Surfers & Greg Hunter
BUSI MHLONGO - WE BABA OMNCANE (IN THE MIX) MZA051)
1 Awukhu Muzi Dance mix 7:12 Blaq Soul 2 We Baba Omncane Rocco Underground mix 7:25 Rocco 3 Isono Sami nkOKhi remix7:48nkOKhi (Original track from the album Between by Max Laesser on M.E.L.T. 2000) 4 We Baba OmncaneInfinite Boys Deeper mix 6:43 Infinite Boys5 Kae Kae 5:58 Dan Mampone and Mabi Thobejane 6 We Baba Omncane 7:22 Funk Daddy 7 Critical Condition 7:59 Gabriel Le Mar 8 Goat Song Alpine mix7:50 Blaq Soul featuring Lungiswa Plaatjies and Busi Mhlongo9 Ubaba Wezingane 6:37 Sumthyn Black 10 We Baba Omncane6:52 Soul Junky re-mix 11 Hlisan' umoya Musa mix 5:04 Top Shayela and Blueberry Jam
Poem by Blueberry Jam
"Lower your arms/guns and come come down, sons of Africa. In a river of blood, no cattle can drink. A person is a person through other people from our past and the old ways. I can see you hardening your heart like a stone. Do you not feel for the sons of Afrika fighting other people's war ? Come down my people, cover each other with a blanket of love."
BUSI MHLONGO - AFRO MELT VOLUMES
For the last of 3 Cd's in the Remix Series, AfrodesiaMP3 & Electric Melt joined forces to present some musical talent Africa possesses. Afro Melt Volumes combines the most prolific artist from the Melt catalogue with established and up and coming producers to breathe new life into classic material, remixing them into the various dance genres that are breaking the barriers in the world today.
Intro (32:03) Khuzani Mr. Funk Kade Sas'bona Remix (00:32) Yapheli'mali Yami Halo & Lars Behrenroth Remix (6:22) Ukuthula Mr. Funk Weh Bantu Bakithi Remix (7:59) Ukuthula Sculptured Mix (5:54) Zithin'isizwe Essential-i Afro Remix (6:14) Oxamu Zulu Mafia Remix (5:40) Ngadlalwa Yindoda Soldiers Of House AB Dub Mix (5:18) Oxamu Soul tonic Ancestral Soul Mix (7:12) Ngeku Wathola Mandlami Blaq Soul's Ritual Mix (6.10) Yapheli'mali Yami Soldiers of House Dub (4:37) Bhoyi nkokhi's Kanun Remix (6:27) Bokwanyana Soul Junky Remix (5:56) Outro (00.35)
GABRIEL LE MAR - JUMP CUTS
Gabriel Le Mar draws inspiration from many sources. But African funk and African musical traditions and culture influenced him in many ways. On JUMP CUTS Gabriel Le Mar cooperates again with singers and songwriters from South-Africa, after having worked in the past with the band Amampondo.
A true co-work from soul-dub-brother Gabriel Le Mar, fusing tech house and dub influences with the local style of south african music like Kwaito, Maskanda and "traditional Zulu music" into modern club sound. The queen of modern Zulu music, legendary Busi Mhlongo with her distinctive voice, is chanting on this album.
BLAQ SOUL - AWUK HU MUZI
"I'm African, I'm Blaq and everything I am is Blaq, even my music is a symbol, it's deep and African" The 2010 debut album of this fine young and fast rising star producer and DJ of South African deep house features a number of remixes by Blaq Soul's heroine - the late Busi Mhlongo. Also featuring are Lungiswa, Sipho Gumede and Madala Kunene.