Amampondo
Amampondo, formed in 1980 were originally made up of seven young men from the same neighborhood in Langa location, outside Cape Town. Their goal has always been to carry traditional sounds into the future rather than see it washed away by the wave of westernization and the growing influence of American music among African youth.
Amampondo's journey has been a long one. Starting out on the streets of Cape Town, they busked to raise cash for more instruments and at the same time worked with ethno musicologists to study the traditions found in Nigeria, The Ivory Coast, Uganda, Zimbabwe and their own Transkei. In 1983 they were sent to perform in Israel, Reunion and Taiwan.
In 1988 Amampondo were asked to play at Nelson Mandela's seventieth birthday concert at Wembley. This spectacular performance established their international reputation as one of the world's best marimba and percussion groups - seen by millions on television worldwide this was a huge success for the band. Madiba recommended them for work having seen one of their videos whilst in prison. He promoted them as ambassadors of South African music and it was he who nominated them to represent their country at the opening ceremony of the Olympic Games held in Atlanta in '96.
It wasn't until 1996 when Amampondo, released from their contractual obligations, recorded their first album for MELT 2000 Drums for Tomorrow followed by Vuyani plus a couple of outtakes from live performances and 2 DVD's. 4 members of Amampondo entered a collaboration with techno/trance outfit Juno Reactor whom they met in 95. Dizu Plaatjies, Simpiwe Matole, Mandla Lande, Michael Ludonga, and Mabi Thobejane toured with Juno Reactor first supporting Moby on a five week tour of the US bringing the music of their homeland into the realms of contemporary dance music. Clad in body paint and full costume Amampondo wowed the crowds with their acrobatics whilst beating out their percussive rhythms alongside Ben Watkins' techno and guitar riffs. They have since collaborated on Shango (ELM8033) touring the album internationally.
AMAMPONDO - DRUMS FOR TOMORROW
It all begun during the Outernational Meltdown gathering in Cape Town 1994, when Amampondo appeared for the first time with a large gathering of friends from overseas and their home country - a legendary concert with everybody on one big stage. 2 years later Amampondo recorded their first album for MELT 2000 at Brownhill Farm Studios in a highly conservative part of West Sussex, UK. The neighbors were constantly complaining about everything so we kept as quiet as one possible one can with a 10 members percussion group and stopped recording drums after 8 pm - all drum takes had to be done TOMORROW. Producer: Brice Wassy

Track Listing
1. CUMBELELE (CHILDREN'S GAME)
Composed by Simpiwe Matole, with traditional lyrics sung by Lungiswa. Cumbelele is an African Xhosa game that is played by the children and the adults join in. this game has everyone joining in, including Jeff Gordon on alto saxophone, Jose Luis Quintana - 'Changuito' - on congas, Emanuel Sejourné on vibraphone, Brice Wassy playing piccolo marimba, drums & cowbell, Richard Ajileye's percussion and Airto Moreira's surdo.

2. TCHOKOLA
Brice Wassy's signature tune, given the Amampondo treatment with lyrics by Lulu 'Lungiswa' Plaatjies.

3. NOBABHEHA (DEFEAT)
Do not think only of yourselves because we are all defeated. That is the message of this song, written by Dizu Plaatjies and performed by the Amampondo Choir.

4. KUDU JUNCTION Kudu is a South African bock with large horns. There are numerous serious car accidents at Kudu Junction involving Kudus as they charge into the path of approaching car headlights. The horns that you hear are Kudu horns, played by Amampondo. The drums & keyboards are played by Brice Wassy.

5. SALAWENA (STAY IF YOU WANT TO)
Written and composed by Lungile Gadezweni, Dizu Plaatjies & Mantombi Matotiyana and featuring the Amampondo Choir, this song asks, 'If you stay here, what will you be doing? Stay if you want, but what are you going to do?'

6. DRUMS FOR TOMORROW
We couldn't play drums that night because it was getting late, so we thought of our neighbours and decided to leave the 'drums for tomorrow'! This composition by Mzwandile Qotoyi & Michael Nkululeko Ludonga features the massed marimbas of Amampondo with Emmanuel Sejourné on vibraphone, Papa Noel Ekwabi on bass and Changuito's timbales.

7. VUKANI NOBANILE (WAKE UP IF YOU ARE ASLEEP)
This is Mantombi Matotiyana's song.

8. INGXOXO
Ingxoxo means 'conversation' - it can be any conversation and this song by Mzwandile Qotoyi - featuring the trumpet of Byron Wallen, Christoph Stiefel playing Fender Rhodes piano, and Jeff Gordon on alto saxophone - has something to say.

9. GUMBOOT DANCE
Producer Brice Wassy joins Amampondo in the gumboot dance.

10. COLLECTIVE FOR 'CHANGUITO'
The ancestral drums of Michael Nkululeko Ludonga lead the djembes, with Richard Ajileye on congas and Jose Luis Quintana - 'Changuito', himself - on timbales in a song dedicated to the Cuban maestro.

11. MPONDOMSE
Composed by Mantombi Matotiyana and performed by her on the mouth bow.

12. TERE TERE
Composed and arranged by Dizu and featuring the Amampondo Choir with Mandisa Menisi, Mandla Lande and Michael Nkululeko Ludonga playing drums; Changuito playing timbales.

13. SKHAL'ABANTWANA (THE CHILDREN ARE CRYING)
A joint Amampondo production demonstrating just how the group get its reputation as the number one Marimba kings on the Cape.
Contains a number of tracks with Amampondo, this rare OUTERNATIONAL MELTDOWN Cardboard box comes with the complete set of 3 CD's. Also available on Vinyl.
Launch Poster of the Outernational Meltdown concerts in London November 1995.
Misty salt sprayed Wild Coast in Pondoland (Transkei) in the Eastern Cape.
DIZU PLAATJIES, MZWANDILE QOTOYI & CHANGUITO - FIDEL PONDO (MZA016)
DOWNLOAD ALBUM
The second gathering of THE OUTERNATIONAL MELTDOWN in 1995 we brought two of the most accomplished percussionists from Cuba to Johannnesburg. During the sessions, again at the Downtown Studios, many legendary South African artists like Zim Ngqwana, Sipho Gumede, Mabi Thobejane and Madala Kunene worked with the Cubans headed by Changuito. A collaboration that established a deep friendship and brotherhood between the South African and Cuban artists - well ahead of later political alliances ! We chose the name Fidel Pondo is in honor of Fidel Castro and Nelson Mandela. On this CD members of Amampondo and their Cuban guests created the first ever South Africa-Cuban collaboration melting traditional Xhosa- with Cuban rhythms. Both founding members of Amampondo Dizu Plaatjies and Mzwandile Qotoyi are experts in traditional Xhosa- and African music . Changuito, the Cuban master congalero has a history with MELT and was first introduced to the label by Airto Moriera. Also on the album playing Bata Drums is Afrocuba's Mario Luis Pino aka Mayito, leader of the touring Latin-Jazz group . Fidel Mpondo is in essence inspired by the historic land right battles of the people of South Africa's most beautiful coastal stretch we simply call the Pondoland or the Transkei. The album is dedicated to leaders of independence such as Fidel Castro & Nelson Mandela but even more fundamentally to the Clan Chiefs of the Pondoland who successfully resisted the British, the Boers and the apartheid regime in numerous uprisings and rebellions against overwhelming odds. The CD contains a series of great pictures of rural live in the Pondoland. Featuring on the album are: Dizu Plaatjies, Mzwandile Qotoyi, Madosini, Michael Ludonga, Changuito, Mangaliso Maxanjana, Mantombi Matotiyana, Lungiswa Plaatjies, Nomvuyo Ximbi, Sgulana Ximbi, Mamaxesibe Ximbi, Nomfundo, Robbie Geerken, Mayito, The Mpondo Choir of Langa, Shadrack Mzoxolo Plaatjies, Simpiwe Matole,.
Photos by Michael Thornton
during the 1995 OUTERNATIONAL MELTDOWN recordings at Downtown Studios in Johannesburg.
Stunning coastline threatend by a project of building aa motorway through the last bit of beautiful South African coast with an amazing bio diversity .
It all begun during the Outernational Meltdown gathering in Cape Town 1994, when Amampondo appeared for the first time with a large gathering of friends. It was a legendary concert with everybody on one big stage. From the very first moment I worked with Amampondo I was convinced that I finally found the foundation of a project that had been in my head since the early 70's. Much like members of Amampondo, I'm influenced by Miles Davis. So, when we had the opportunity at the end of this recording session to play live at Bagleys' in London, there was the second stage of my future plan taking place. It was a great occasion and the crowd was so young I almost felt antique! The youth of jungle and techno raved to the acoustic music of Amampondo with Mabi Thobejane, Brice Wassy, Changuito, Byron Wallen and master percussionist Airto Moreira. So, if you see Amampondo advertised on a poster in your neighbourhood, make sure you get a ticket before the event is sold out because Amampondo and friends means live music, means dancing!
Robert Trunz, March 1999
AFRICA 2000 & Amampondo
Guests: Brice Wassy, Airto Moreira, Jose Luis Quintana aka Changuito, Mabi Gabriel Thobejane Mantombe Matitiyana
The Pondos: Dizu Plaatjies, Simpiwe Matole, Michael Ludonga, Mzwandile Qotoyi, Mandla Lande, Zandisile Lei Mbizela aka Blackie, Xola Mlambo, Lungiswa Plaatjies, Nomfundo Mayekiso, Mandisa Menisi, Byron Wallen and the Risenga Makondo Band
AFRICA 2000 Bonus Features with:
Madala Kunene, Mabi Gabriel Thobejane, Airto Moreira, Changuito and Brice Wassy plus the Pondo backing vocalists listed above
Jose Luis Quintana aka CHANGUITO solo tracks
Location: Bagley's/Canvas, King's Cross, London 1991-2007
Like a legal rave, Bagley's was a huge multi-room warehouse club that held some of London's biggest Saturday night parties. House night Freedom ran at the club for years and Philip Sallon's Mud Club also took place there, as well as the Pussy Posse Party, which included mud-wrestling. The club was renamed Canvas in 2003, when Billy Reilly took over the club, also opening the Key and the Cross next door, creating a golden triangle of clubbing in N1. Now the industrial area, which was once a high-density party hot spot, is the site of one of London's Biggest modern developments.
AMAMPONDO - 25 YEARS OF SKINS DVD (MZADV003)
In 2005 the group celebrated its 25th Anniversary with the release of this DVD. For a quarter of a century Amampondo had toured the globe representing the heritage and culture of Southern Africa. Their numerous collaborations with all genres of music from Jazz to Trance got their music on many advertisements and films including MATRIX where they recorded with Ben Watkins of Juno Reactor and Mabi Thobejane. Amampondo is best experienced live and this is the first opportunity for the group's many fans across the world and especially back home to enjoy their stunning performances which were recorded in Italy, UK, France and South Africa. The Sub Menu of the DVD includes a feature on the many other MELT artists in our catalogue. Guest appearances by:
Airto Moreira - drums and percussion, Brice Wassy - Drums and percussion, Mabi Thobejane - Congas, African drums & percussion, Mangaliso Maxanjana - Concertina,Luyanda Nbete - Penny whistle, Duke Norman Penny whistle, Byron Wallen - trumpet and kudu horn, Changuito - timbale & congas
AMAMPONDO - VUYANI CELEBRATE (BW2143)
This album from Amampondo is to celebrate their 20 years of music making. It looks forward with some exciting new tracks, whilst drawing from some of their great tunes from the past performed in new ways. Featuring guests from the amazingly talented musicians that live in the townships, often struggling to survive in a country that does not always appreciate its own talent, this is a showcase for the music of Cape Town. Through the 20 years Amampondo have had many struggles, fighting to perform their music and keep traditions alive, whilst being seen as a threat by the Apartheid regime who harassed them and tried to make their lives as difficult as possible. To survive for so long in the face of such pressure is quite an achievement, they deserve recognition for their part in keeping Xhosa culture alive and growing. Today the pressures are different and many members of the group are working with young people to teach them how to play traditional instruments. The future in South Africa still looks good!
This is an African album drawing influence from traditional Xhosa songs, music from the rest of Africa and the music of African descendants all over the world. It is an acoustic album with minimum electronics, but the sound is big, it's a celebration of life in the Rainbow Nation, feel free to dance!
Play it loud!
Chris Lewis - CO PRODUCER AND ENGINEERSimpiwe Matole - CO PRODUCER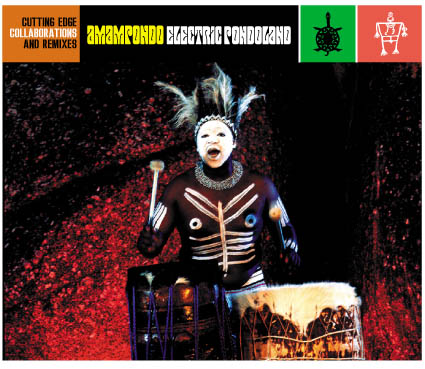 AMAMPONDO - ELECTRIC PONDOLAND (MZA013)
ELECTRIC PONDOLAND Release Year 2005
Amampondo always attracted the attention of sonic collaborators. From the booming trance remixes of the mid-nineties to the cyber producers of the new millennium. With the emphasis of rhythm on the 21st century dance floors, DJ's have been lining up to get a sample of the Mpondo power beats. With Electric Pondoland we introduce you toa few choice cuts from among the many creative artists and producers who have been inspired by Amampondo. Enjoy listening to how traditional African music can revive the digital and laptop revolution, always maintaining its inherent dignity.
1. HOHOHO (3:30)
Saafi Brothers and Amampondo feat. Mabi Thobejane, Michael Kohlbecker, Gabriel Le Mar, Dizu Plaatjies, Michel Ludonga, Mandla Lande & Simpiwe Matole
Recorded at Bowlcourt's Juno Reactor Studio in London during the Nottinghill Carnival of 1997. German Saafi Brothers are one of three groups to collaborate with Amampondo in 1997.
2. ABANTU ABADALA (5:38) remix by Chris Lewis and Nick Cohen in London UK. Chris was responsible for a many Amampondo recordings during the 90's. He has toured extensively with the group making sure the audience is served a proper front of the house mix putting across the raw and beautiful sounds of South Africa's master percussionists and marimba players.
3. UTHANDO LUPHELILE (6:29) by MADOSINI - Azanian Pulse Remix by Rudeboy Paul Taken from the album RUDEBOY AZANIAN PULSE (CDRBP 001).
4. KING OF THE PONDOS (5:07) from FIDEL MPONDO with Madosini, Dizu Plaatjies and Mzwandile Qotoyi/ MOZAIK UK remix) Remix using samples from the album MADOSINI POWER TO THE WOMEN (BWSA 108). Remixed by Juno Reactor collaborator Mike McGuire and Voodo People in London around the time when the collaboration between Juno and Amampondo was in its infancy.
5. LESLEY 4WAY (5:22)
Kris Weston, Simpiwe Matole - Marimba Solo, Dan Zamani - Marimba Treatments, this track originates from one of 3 different collaboration of AMAMPONDO with members of the Dance and Electronica elite. This time Simpiwe went into the studio with ex ORB member Kris Weston. Lesley 4Way gives a taste of what Kris was up to during the recording of the album which took place not long after he left ORB.
6. VUYANI (MAMA DANCE! REMIX)(4:14)
Amampondo and vocals by Dave Mxolise Mayakane
Remixed by Cape Town's most groovy and dance label Mama Dance!
Special thanks and respect to Craig McGahey for his help and strong belief in local artists.
7. MANTOMBI MATOTIYANA Embo remix by Ragga and 2Les.
Composed by Mantombe Matotiyana, original recorded by Chris Lewis at Brownhill Farm Studios England
8. DJEMBE AMAM (4:06) Amampondo
Composed by D Plaatjies, S Matole, M Qotoyi, M Lande & N Ludonga,
9. INNER CITY (6:25) Lungiswa remix by THE GRID. Lungiswa's Xhosa rendition of Marvin Gaye's song attracted UK outfit THE GRID who came up with this remix. In 2000 she released her first solo album with MELT produced by Tony Thorpe in London.
10. MAKHULU (GRANDMA) (5:54)
Dizu Plaatjies, Greg Hunter and Nandipha Nojilana
Recorded by Greg Hunterin Langa(Cape Town) in 1999 and effects added at Greg's studio in London.
The music was composed by Dizu, Greg and Nandipha. Greg's gift encountering traditional artists lead through a series of great ambient orientated albums of which Alien Soap Opera Second Wave remains my all time favorite.
11. SALAWENA (5:54) Amampondo (Dub remix by Smith & Mighty in Bristol UK) Previously unpublished Dub version of the original Salawena remix first released on the album Music With No Name Vol.2
12. JOURNEY (8:48) Amampondo and Juno Reactor ( this track was never released by Juno Reactor)
Ben Watkins, Taz Alexander, Nick Burton, Mabi Thobejane, Michael Ludonga,Dizu Plaatjies, Simpiwe Matole, Mandla Lande Composition by Ben Watkins, Nick Burton, Mabi Thobejane, Michael Ludonga,Dizu Platjies, Simpiwe Matole, Mandla Lande
13. HULE LAM (4:01) Juno Reactor feat AmampondoBen Watkins, Mabi Thobejane, Michael Ludonga, Simpiwe Matole, Mandla Lande.

THANKS to All the Amampondo (past, present and future) family for giving us great rhythms for three decades- Respect !
AMAMPONDO - RAW & UNDILUTED (CD)
This CD of mostly unreleased raw sound recordings by Amampondo and their friends was compiled with the many friends of the group in mind who for over two decades haven't missed an opportunity to see the group live. There is no better way to experience the energy and beauty of acoustic dance music then having such a large group of drummers, marimba players and singers being united on one stage giving themselves over to the forces and the spirit of collective music making. Economic & political changes make it increasingly more difficult ( and in some cases even impossible) to preserve that tradition of acoustic dance music and the touring of such a large groups without the support and sponsorship of theprivate industry and the Arts and Culture departments of our governments. We like to thank all the people and institutions who made it possible for this fantastic group to tour the world for the past 25 years and a special thank goes to Chris Lewis for mixing many of their live shows but at the same time keeping an eye on recording performances creating a library of precious raw and undiluted Amampondo sound files !
1. Woza – Amampondo4:39 Horns by Simpiwe Matole, Michael Ludonga, Mandla Lande & Leo Mbizela (Blackie) FROM THE ALBUM VUYANI (BWSA 21430)
2. Umtshingo Nentombi – Amampondo 3:57 Performed live in 1998 @ the Spoleto Roman Amphitheatre in Italy. Dizu Plaatjies. Simpiwe Matole, Mandla Lande, Michael Ludonga, Mzwandile Qotoyi, Brice Wassy (Cameroon), Leo Mbizela aka Blackie, Lungiswa Plaatjies, Nomfundo Mayekiso, Mantombi Matotiyana, Suzan Hendricks. Recorded off the desk live onto 4 track NAGRA D, mixed by Chris Lewis.
3. Song for Fela- Amampondo 6:59 Performed live in 1997 @ The Fin de Siecle Festival's LU Concert Hall inNantes, France. Special guest Mabi Thobejane. Dizu Plaatjies. Simpiwe Matole, Mandla Lande. Michael Ludonga, Mzwandile Qotoyi, Leo Mbizela (Blackie) Lungiswa Plaatjies, Nomfundo Mayekiso, Mantombi Matotiyana, Recorded by the Flying Dutchmen in their mobilestudio "The Van " onto DA88's. Mixed and mastered by Chris Lewis at Brownhill Studios and the Music With No Name Studio in Cullinan, South Africa.
4. Inkosi Yamampondo - DZM PROJECT DIZU PLAATJIES,MZWANDILE QOTOYI5:35 From the album Tribal Ethno Dance (BW 092) with additional production by Airto Moreira. DIZU PLAATJIES,MZWANDILE QOTOYI,MANGALISO MAXANJANA, Jose Luis Quintana aka Changuito and Mayito. The traditional Amampondo choir are:MANTOMBI MATOTIYANA,LUNGISWA PLAATJIES,MANGALISO MAXANJANA,SGULANA XIMBI,NOMVUYO XIMBI,MAMXESBIE XIMBI,MFUNEKO MAGADALA,NOMFUNDO MAYEKISO,NKULULEKO LUDONGA,MZWANDILE QOTOYI,DIZU PLAATJIES AND SIMPIWE MATOLE
5. Embo – Mantombi Matotiyani3:56 Recorded by Chris Lewis at Brownhill Farm Studios in England during the Launch tour of the album Drums For Tomorrow in 1997
6. Salawena (stay if you want to) - Amampondo 5:47 From the album Drums For Tomorrow (BWSA096)
7. Itshintsh'Ikhona - AMAMPONDO 4:48 From the album Vuyani (BWSA2143)
8. Ama'Pancho – Amampondo and Changuito3:42Recorded during the 1995 recording session at Downtown Studios in Johannesburg, South Africa. Changuito, Simpiwe Matole, Michael Ludonga, Mandla Lande, Jessica Lauren, Lungiswa Plaatjies, Dizu Plaatjies
9. Giya Kasiamore- Amampondo7:51 From the album Free At Last – Outernational Meltdown (BW076) recorded at Milestones Studios in Cape Town 1994 Mixed by Airto Moreira and Robert Trunz Amampondo members Mzwandile Qotoyi, Mandla Lande Dizu Plaatjies, Simpiwe Matole,. Michael Ludonga, Leo Mbizela (Blackie) and project leader Airto Moreira on percussion.
10. Emva Ekhaya – Mantombi Matotiyani3:06 recorded by Chris Lewis at Brownhill Farm Studios in England during the Launch tour of the Amampondo album Drums For Tomorrow in 1997
11. Uhadi baobow– Dizu Plaatjies, Mzwandile Qotoyi and Richard Ajileye 4"53 Dizu and Mzwandile playing the traditional Uhadi from the Transkei and Richard the Brazilian Berimbao. Recorded outdoors at Brownhill Farm Studios England during the recording sessions of Drums For Tomorrow by Richard Edwards. The original tape disappeared for almost a decade and was rediscovered during the company's move to South Africa.
12. Motokale – Madosini 2"43 Arranged by DIZU PLAATJIES-MZWANDILE QOTOYI From the recordings of the album Madosini – Power to the Women (BWSA108). Madosini was recorded at Milestones Studios in Cape Town by Murray Anderson. The Amampondo choir together with friends from Cuba, Changuito and Mayito were recorded @ Downtown Studios, Johannesburg in October 1995 by Chris Lewis.Mixed at Brownhill Farm Studios by Greg Hunter.
13. Mamaliye – Amampondo6"16 Performed live in 1997 @ The Fin de Siecle Festival's LU Hall inNantes (see track 3 for more info)
14. Eh Kemba Kalla Hoe, Kemba Kalla Hoa I Kalla Gne Mandoro, I Kalla Gne Fagnahi – PedXulu 5"43 Recorded live by Chris Lewis from the front of house mixing desk at the ARTS ALIVE Festival 2002 in Johannesburg, South Africa at the Turbine Hall in Newtown. PedXulu core members are: Randimbarison Ricky – vocal and percussion (Madacaskar), Mabi Thobejane & Thabang Philip Tabane jnr. On Malombo- and African drums, congas and bongos. Simpiwe Matole on trumpet, keyboard and percussion, Mandla Lande on congas and metla percussion, Michael Nkululeko Ludonga on African drums and surdo, Dave Mxholise Mayakane on guitar and vocals and Sibusiso Bernard Mndaweni on bass. Featured guests are Vincent Mtetwa on keyboard, Byron Wallen (UK) on trumpet, Ivan Mazuze (Mozambique) and Duke Norman on sax and flute.
from the remix album MUSIC WITH NO NAME Vol. 1 released 1995 on CD and gate fold Vinyl
When Juno Reactor were invited to tour the USA as support to Moby at the end of 1997, Ben Watkins decided to invite four members of the 'Pondos, plus Mabi Thobejane to accompany him. Over the course of seventeen dates in the 'States, the Juno/Pondo collision - er, collaboration - developed a new concept, integrating organic percussion sounds into Juno's distinctive sound.
This historic USA tour with Juno Reactor culminated in Cape Town early on New Year's Day with a headlining performance at the largest rave Africa has ever seen. In 1998 they played a live set in Glastonbury.
The 4 Rhythm Runners Mandla Lande, Michael Judonga, Mabi Gabriel Thobejane and Simpiwe Matole went on to tour with Juno Recator for over 10 years.
 
DIZU PLAATJIES & MZWANDILE QOTOYI - ETHNO TRANCE LIVE (BNETCD002)